Best Sustainable Shelters
Natural Shelters are designed with sustainable design credentials to the fore. In fact, the original designs for Natural Shelters and the knowhow behind them are a result of the designers winning a competitive tender from Cornwall Council to specifically design a sustainable shelter. Benjamin and Stedman (the founders of Natural Shelter) beat off nine competitors including shelter manufacturing giants such as Trueform and Bus Shelters Ltd, two of the largest suppliers in the UK. The original Natural Shelters became the preferred choice for Cornwall and were procured within a £1.5M four year Framework Agreement. Apart from the obvious quality of the product it was Cornwall Councils commitment to supporting a truly sustainable shelter that led to the realisation of a zero/low carbon product.
Most shelters last less than 20 years, and by that time look decidedly shabby, Natural Shelters have a 50 year designed service life which means we use far less material, energy and resources generally. There is no need to look for replacement every 10-20 years, and all the environmental impacts and cost that this incurs. Being mainly timber the structure has Co2 sequester within its structure.
Negative Carbon Shelter for Transport for London
Natural Shelters are a development of earlier work that was undertaken by Benjamin Stedman for Transport for London. The D4SD shelter shown below was Life Cycled Assessed (LCA) using industry leading SIMA Pro software (developed by Pre´, Netherlands). The results and environmental benefits were exceptional. The D4SD shelter has a net gain of sequestered carbon of 166kg making it Carbon Negative. The metal reference shelter, the iconic 'Insignia', a fine shelter that dominates the London street scape was calculated to have a 8.7 tons Co2 contribution in its production alone. It also had more than 10 times the impact in areas such a carcinogens and impact on human health and ground water. This research and design work convinced Benjamin and Stedman that sustainable 'Natural Shelters' could be built cost effectively in modified timber in volume.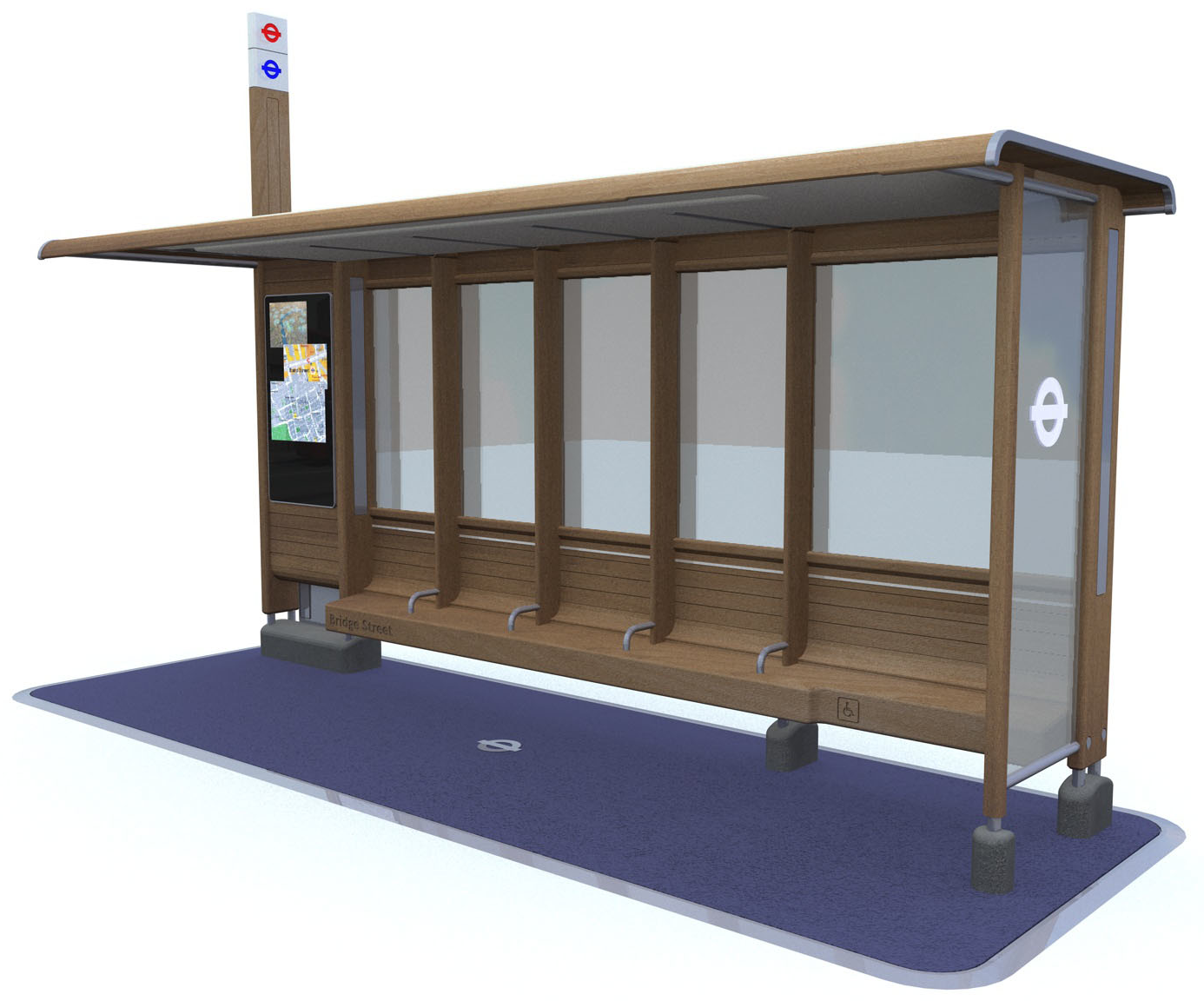 Built to Last
For transport operators Natural Shelter represents a fantastic long term investment. Unlike traditional metal shelters that generally need to be replaced between 10-25 years, Natural Shelters are designed to last 50 years with no maintenance, apart from cleaning. Unlike steel and aluminium shelters, Natural Shelters high quality engineered wood will age beautifully. The older they get, the better they look:
The wood is accredited with a host of awards for its sustainability combined with advanced properties from its engineered treatment.
Left unpainted the wood will patinate to a mellow, silver grey as shown below.
Shelters can be moved and relocated at any time in the future as transport needs change, saving on the cost of new shelters and lead times.