Accoya | Supply Chain | Materials
We collaborate with the the global leader in Acetalation technologies, Accsys Technologies. Our shelters are built in Accoya and Medite Tricoya Extreme. These acetylated modified wood products are world leading, warranted for up to 60 years with Class 1 Durability, surpassing even teak.
'Accsys Technologies and its leading products of Accoya® and Medite Tricoya® manufactured by Medite Europe, has collaborated with Benjamin Stedman Design on the development of an exciting new range of products (Natural Shelter). As Benjamin Stedman Design comment 'working with Accsys Technologies as modified wood advisers, in close partnership and collaboration, enabled us to optimise the sustainability and design credentials of these cutting edge designs'
Supply Chain
Natural Shelter has built up a network of reliable manufacturing partners whose quality of work and ability to deliver on time against agreed price is exceptional. These partners are based in the United Kingdom and Europe. Technology sectors include specialist lamination and machining plants annually processing in the region of 140,000 M ³ with certificates for FSC, PEFC, FSC, ISPM, VGE and SGS.
Higest Quality Materials & Components
This commitment to the highest quality materials is true of all the components. The only components that can not currently last 50 years is the lighting system. However, the 10W LED system is best in class and the same as specified by numerous Bus & Train Operators.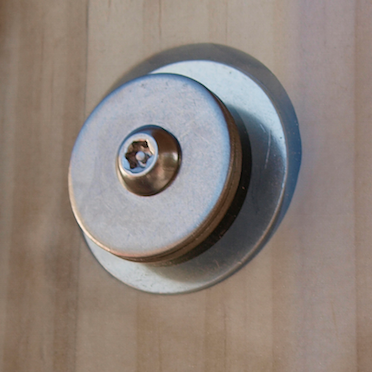 A4 Stainless Steel
All steel components are marine grade A4 stainless steel. This costs more but will not rust even in marine environments. Natural Shelters specifies A4 marine grade for all components, from the smallest anti vandal screws to the 10mm thick ground spigots.
Glazing & Options
10mm toughened glass is fitted as standard.
Upon request the glass can be replaced by modified wood panels or polycarbonate sheet to provide greater vandal resistance.
Concrete Foundation
Natural Shelters are either built on a concrete raft made from 85% Cornish China Clay waste aggregate, or bolted to onsite foundations.
The raft enables efficient shelter installations or re-positioning with the minimum disruption to the other road users.
The raft system allows shelters to be moved even years after it was originally installed, and be sited at a new location.
Marine Grade Stainless Steel
316 a4 stainless steel is used throughout, for the ground spigots and all anti tamper screws and metal trim parts.
Can be recycled to 100% of its material performance quality at end of service life.
Roof
Natural Shelters have three options for the roof covering:
1. Opague 13.5mm toughended laminated glass
2. Custom built PV Solar Panels with battery storage or back to grid connection.
3. Medite Tricoya Extreme modified wood fibre with a manufacturer warranty for 60 years of external use with no further treatment required.
Seating
A solid 90 x 290mm laminated engineered bench is standard.
A substantial, hard wearing seat that does not conduct the cold, unlike metal and plastic seats.
Lighting
LED 10w ZD lamp with life of 39,500 hours (75% degradation), equivalent to 18 years of service based on 6 hours per day.
The lighting controller switches the light on and off throughout the year to save energy in use.
Timetable
The timetable case is embedded into the built in Flag Pole and is made from 316 stainless steel and either 6mm toughened glass, or if preferred can be supplied in impact resistant polycarbonate.
Timetables can be printed on a polyester vinyl (100% recyclable).
Replacement Components
Natural Shelters use an innovative digitally manufactured joint fixing system.
Damaged components can be easily replaced from stock components or remanufactured to order. Minor damage can be repaired using standard woodworking techniques.
DDA Compliant
All shelters facilitate wheel chair access.
The timetable is positioned to meet DDA recommendations for wheelchair users.
Visibility
Lots of glass allows for good visibility to see oncoming buses and pedestrians.