Natural Shelters Are Innovative
Natural Shelters for Bus and Rail Operators have been designed from the ground up with a host of innovations that save, time, money and resources.
Our shelters are built using the world's most advanced and durable low carbon modified wood, Accoya. A very hard wearing modifed timber with a tactile quality that travellers enjoy and value as an investment in them by the transport operator. Within this Natural Shelter environment we can provide a complete suite of digital services to keep your travellers safe, informed and fully supported whilst using your networks.
High quality shelter materials are used throughout, no compromise, and are warrented for up to 50 years. Our standard features include: low energy lighting, comfortable generous wood seating, optional for 15 minute Installation, two day on site installation, 10mm Toughened glass, a maintenance free service life (does not include cleaning), low cost bespoke design, DDA compliance and a low carbon structure that can house fully integrated digital services (optional).
Fast Installation
All Bus and Rail shelters are designed for fast professional installation. Where access is possible Natural Shelters can be prefabricated offsite on a specially designed Ecocrete raft. The shelter is then delivered and craned into position in less than 15 mins. No major traffic or pedestrian disruption. The offsite production of the shelter leads to our high Q&A standards being met and safer and healthier working conditions for staff. It also means that the foundation slab is supplied by Natural Shelter reducing groundworks for the transport operator.
Materials used throughout are of the highest quality, no compromise. Natural Shelters are built to last 50 years. The main wood structure is Accoya, a 'modified' engineered wood using proven technology. It will not rot, it has no vulnerability (well for a minimum of 50 years when 20cm above ground) to insect, pest and fungi. The roof has the same innovative wood treatment. On bus shelters the flag pole and time table are integrated into the shelter further reducing costs and street clutter. Natural Shelters seats are made in a robust comfortable 90mm thick precision manufactured wood. Warm to the touch which does not conduct heat and cold to the user as metal seats do. Maintenance against vandalism has been carefully considered. Our standard glass is 10mm thick and toughened, well above competitive shelter specification of 8mm and 6mm. The shelters can also be supplied with polycarbonate as a replacement for the glass. Depending on the type of graffiti, it is simply removed using either water jet, sanding or a wood plane. Simple, non toxic and eco friendly treatments.
Sustainably Designed
Natural Shelters are designed with sustainable design credentials to the fore. In fact, the original designs for Natural Shelters and the knowhow behind them are a result of the designers winning a competitive tender from Cornwall Council to specifically design a sustainable shelter. Benjamin and Stedman (the founders of Natural Shelter) beat off nine competitors including shelter manufacturing giants such as Trueform and Bus Shelters Ltd, two of the largest suppliers in the UK. The original Natural Shelters became the preferred choice for Cornwall and were procured within a £1.5M four year Framework Agreement. Apart from the obvious quality of the product it was Cornwall Councils commitment to supporting a truly sustainable shelter that led to the realisation of a zero/low carbon product.
Most shelters last less than 20 years, and by that time look decidedly shabby, Natural Shelters have a 50 year designed service life which means we use far less material, energy and resources generally. There is no need to look for replacement every 10-20 years, and all the environmental impacts and cost that this incurs. Being mainly timber the structure has Co2 sequester within its structure.
Negative Carbon Shelter for Transport for London
Natural Shelters are a development of earlier work that was undertaken by Benjamin Stedman for Transport for London. The D4SD shelter shown below was Life Cycled Assessed (LCA) using industry leading SIMA Pro software (developed by Pre´, Netherlands). The results and environmental benefits were exceptional. The D4SD shelter has a net gain of sequestered carbon of 166kg making it Carbon Negative. The metal reference shelter, the iconic 'Insignia', a fine shelter that dominates the London street scape was calculated to have a 8.7 tons Co2 contribution in its production alone. It also had more than 10 times the impact in areas such a carcinogens and impact on human health and ground water. This research and design work convinced Benjamin and Stedman that sustainable 'Natural Shelters' could be built cost effectively in modified timber in volume.
Modular System Design
Natural Shelters are based on a complete modular system. Our shelter design can be adapted to produce custom models at low development costs for transport operators. Natural Shelters can supplied as small compact units (1 x 1m footprint - for Ticket Vending machines) through to major Transport Hubs for several hundred users.
Novel Jointing System
We use a patented jointing system for all our shelters. It is a high-quality precision system. This enables Natural Shelters to be simply dismantled in a nondestructive way and be reassembled at any point in the future. Given the longevity of the materials and the construction methods used a Natural Shelter can be treated as a long-term asset and moved to meet new passenger demands as and when needed.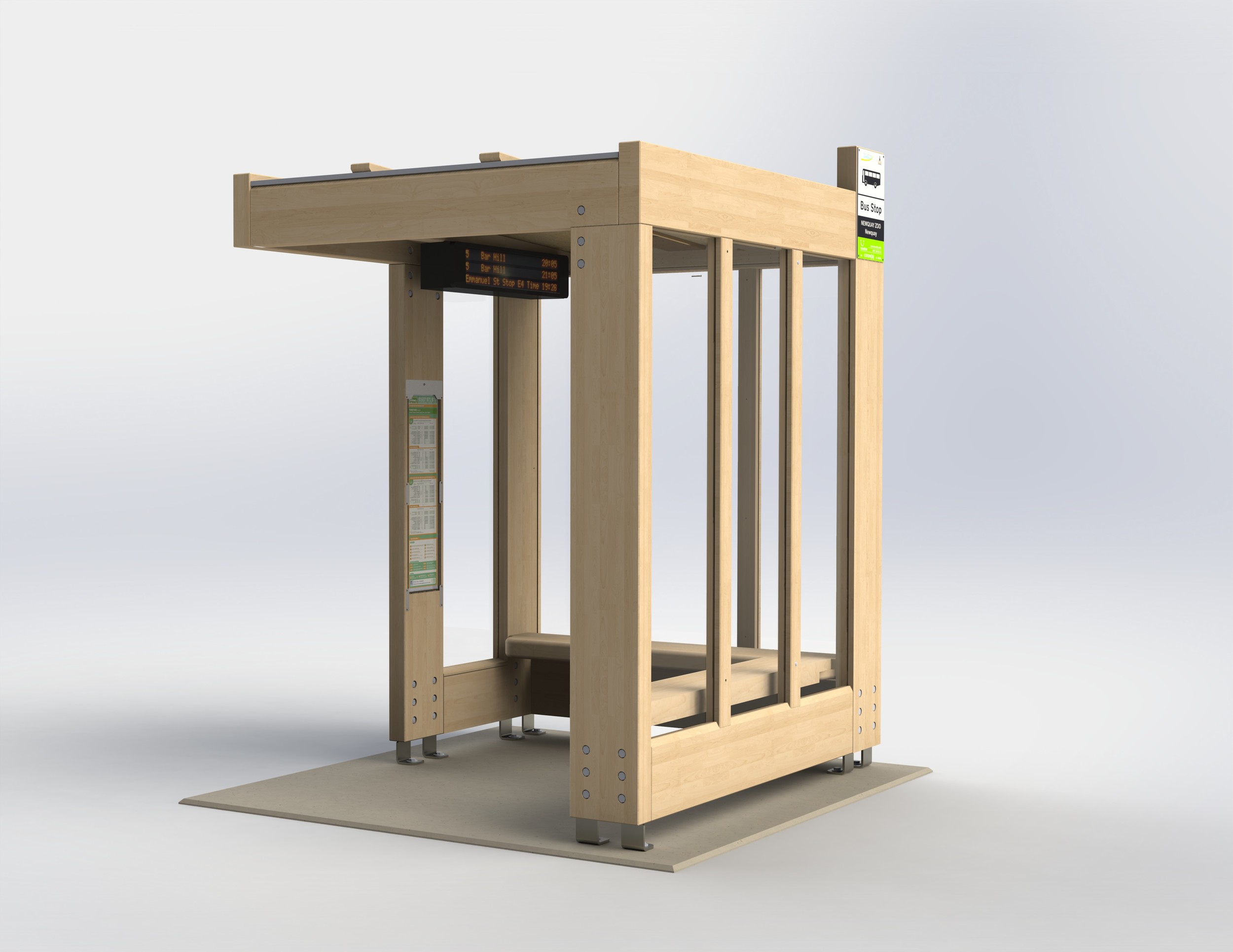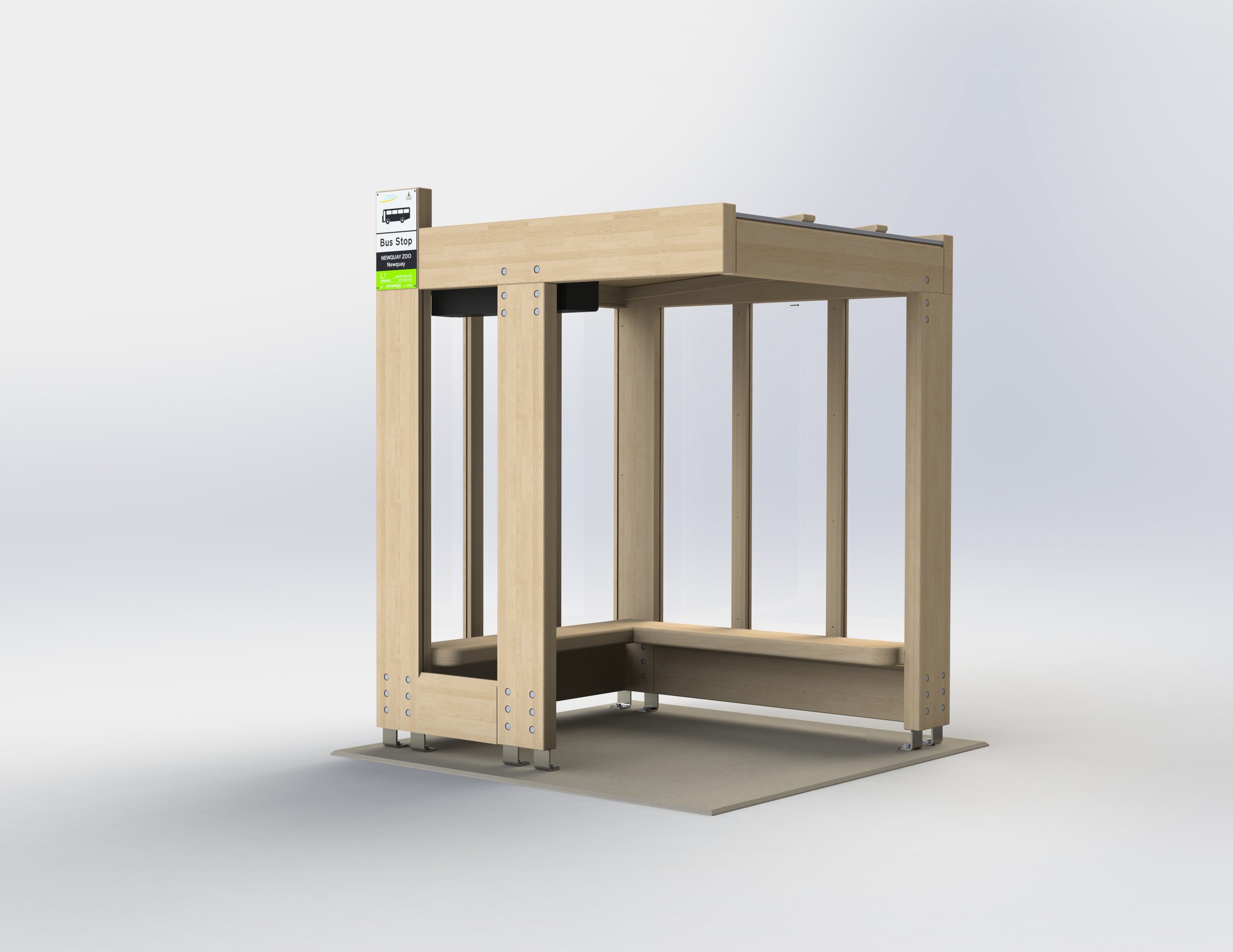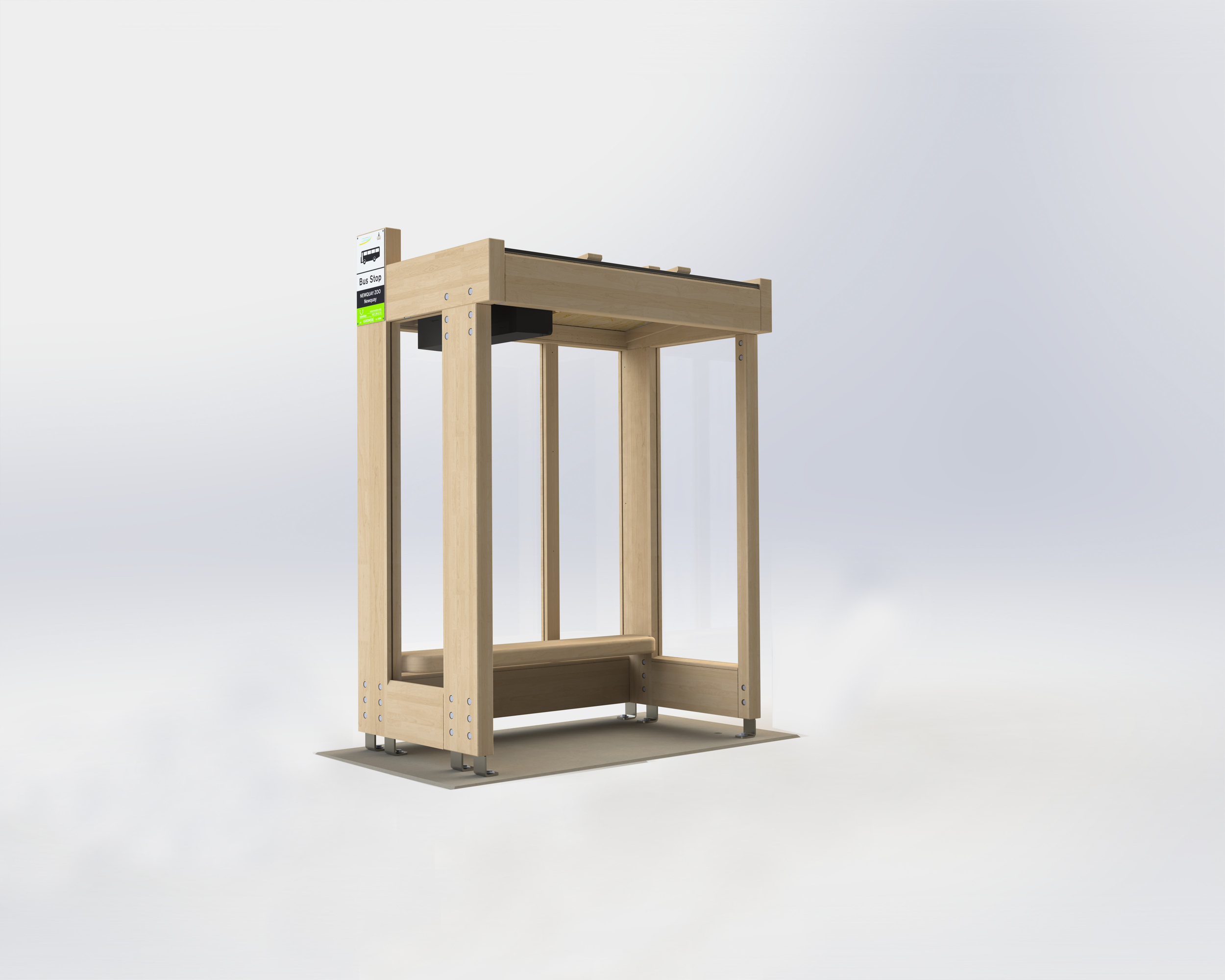 Production range of Natural Shelters. Different models for transport operators are easily possible based on the modular design and novel joint system.
Built to Last
For transport operators Natural Shelter represents a fantastic long term investment. Unlike traditional metal shelters that generally need to be replaced between 10-25 years, Natural Shelters are designed to last 50 years with no maintenance, apart from cleaning. Unlike steel and aluminium shelters, Natural Shelters high quality engineered wood will age beautifully. The older they get, the better they look:
The wood is accredited with a host of awards for its sustainability combined with advanced properties from its engineered treatment.
Left unpainted the wood will patinate to a mellow, silver grey as shown below.
Shelters can be moved and relocated at any time in the future as transport needs change, saving on the cost of new shelters and lead times.
Highest Quality Materials
This commitment to the highest quality materials is true of all the components. The only components that can not currently last 50 years is the lighting system. However, the 10W LED system is best in class and the same as specified by numerous Bus & Train Operators.
A4 Stainless Steel
All steel components are marine grade A4 stainless steel. This costs more but will not rust even in marine environments. Natural Shelters specifies A4 marine grade for all components, from the smallest anti vandal screws to the 10mm thick ground spigots.
Glazing & Options
10mm toughened glass is fitted as standard.

Upon request the glass can be replaced by modified wood panels or polycarbonate sheet to provide greater vandal resistance.
Concrete Foundation
Natural Shelters

are either built on a concrete raft made from 85% Cornish China Clay waste aggregate, or bolted to onsite foundations.

The raft enables efficient shelter installations or re-positioning with the minimum disruption to the other road users.

The raft system allows shelters to be moved even years after it was originally installed, and be sited at a new location.
Marine Grade Stainless Steel
316 a4 stainless steel is used throughout, for the ground spigots and all anti tamper screws and metal trim parts.
Can be recycled to 100% of its material performance quality at end of service life.
Roof
Natural Shelters have three options for the roof covering:
1. Opague 13.5mm toughended laminated glass
2. Custom built PV Solar Panels with battery storage or back to grid connection.
3. Medite Tricoya Extreme modified wood fibre with a manufacturer warranty for 60 years of external use with no further treatment required.
Seating
A solid 90 x 290mm laminated engineered bench is standard.

A substantial, hard wearing seat that does not conduct the cold, unlike metal and plastic seats.
Lighting
LED 10w ZD lamp with life of 39,500 hours (75% degradation), equivalent to 18 years of service based on 6 hours per day.

The lighting controller switches the light on and off throughout the year to save energy in use.
Timetable
The timetable case is embedded into the built in Flag Pole and is made from 316 stainless steel and either 6mm toughened glass, or if preferred can be supplied in impact resistant polycarbonate.
Timetables can be printed on a polyester vinyl (100% recyclable).
Replacement Components
Natural Shelters

use an innovative digitally manufactured joint fixing system.

Damaged components can be easily replaced from stock components or remanufactured to order. Minor damage can be repaired using standard woodworking techniques.
DDA Compliant
All shelters facilitate wheel chair access.

The timetable is positioned to meet DDA recommendations for wheelchair users.
Visibility
Lots of glass allows for good visibility to see oncoming buses and pedestrians.